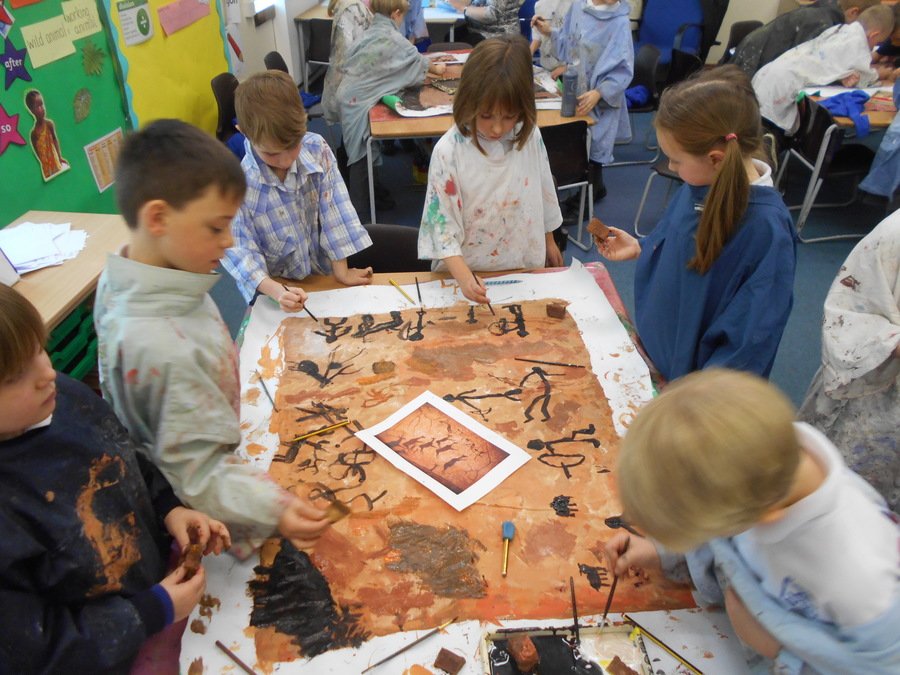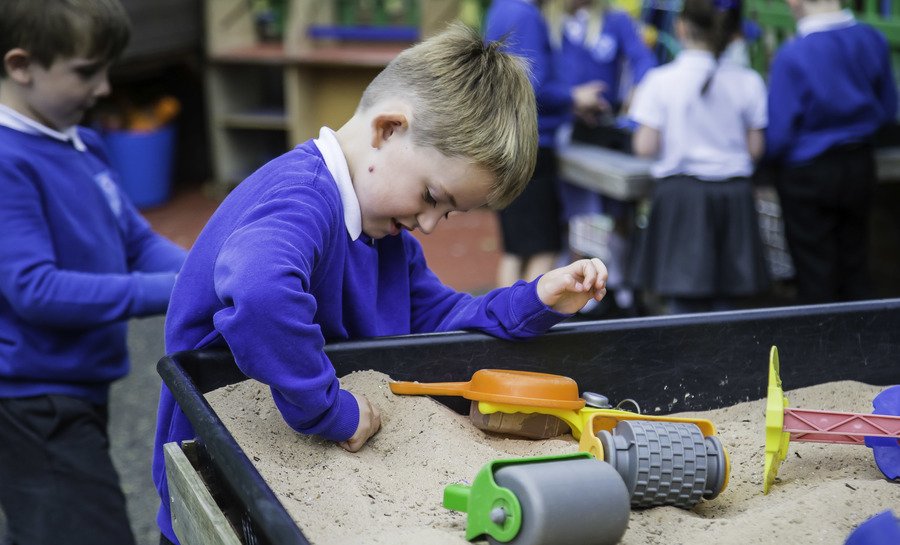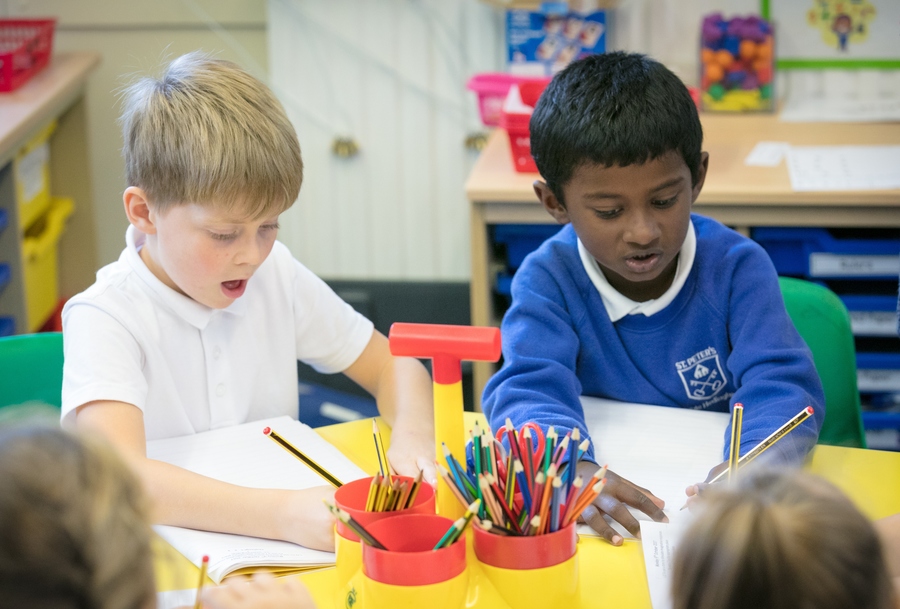 The School's Curriculum
At St Peter's Church of England (VC) Primary School we:
Value the spiritual and moral development of each person, together with intellectual and physical growth.

Raise educational achievements as a vital key to improving the quality of life of our children.

Promote high expectations about educational standards and achievements, acknowledging and challenging disadvantage and discrimination in all forms.

Acknowledge specific individual needs and meet them as far as possible within available resources.

Provide wide and varied educational experiences, which are based on the Foundation Stage Curriculum and 2014 National Curriculum.

Value our environment, and teach respect for our world, and how we should care for it for future generations as well as our own.
The aims of our school curriculum are to:
enable all children to learn and develop their skills to reach their potential

promote a positive attitude towards learning, so that children enjoy coming to school, and acquire a solid basis for lifelong learning

teach children about their developing world, including how their environment and society have changed over time

help children understand Britain's cultural heritage

enable children to be positive citizens in their community and wider society

fulfil all the requirements of the 2014 National Curriculum

help children understand the importance of truth, equality & fairness, so that they grow up committed to equal opportunities for all

enable children to have respect for themselves and high self-esteem, and to be able to live and work co-operatively with others.
Organisation and planning
We plan our curriculum in three phases; agreeing a long-term plan for Literacy, Numeracy, Science, Religious Education and ICT.

In order to reflect the interests of different cohorts, and to meet expectations of coverage and progression within 'the humanities', we plan topics that will engage, stimulate and challenge our pupils.

Within our medium-term 'topic' planning, we give clear guidance on the objectives and strategies that we use when teaching.

Short-term plans set out the learning objectives and success criteria for each session, and identify the range of resources and activities which will be used.
In particular all pupils will:
have an education that enables them to develop the knowledge, understanding and skills identified in the national curriculum and Early Years Framework

be shown respect as learners and individuals

have planned opportunities to develop their literacy and numeracy skills

develop their understanding of the significance of ICT and how it will affect their lives

experience a planned programme of personal, social, health and citizenship education and spiritual guidance

receive accurate and helpful feedback from teachers on how well they are doing at school and ways of improving their work and guidance in setting their own targets

learn about metacognition and to be able to talk about effective learning

be able to enhance their working memory

develop resilience, a questioning approach and a 'growth mindset'

have a record of curriculum achievements that is valuable for them, their families and their receiving schools

work in a learning environment that is safe, secure, exciting and stimulating

participate in activities that enrich the curriculum for example, visits, residential experiences, performances, sports & arts

have homework opportunities, for example reading, spelling, Mymaths and Learning Journal research on a regular basis

learn to swim in the school's pool and develop a life-long love of swimming

experience opportunities to take part in a performance e.g. class assemblies, concerts

have a range of extra curricular activities such as after school clubs
Reading and Phonics
Our children are encouraged to acquire a love and respect of books. We aim to use books to stimulate the child's imagination. In KS1, children build a sight vocabulary and progress through various reading texts and banded books, whilst concurrently following the

Letters and Sounds

programme to build up phonetic knowledge and skills.
Children with Special Needs, including Most Able
The curriculum is designed to provide access and opportunity for all children who attend the school, as stated in our SEND policy. We comply with the requirements set out in the SEND Code of Practice in providing for children with special needs.

If staff or parents/carers raise a concern about a child, his/her teacher will make an assessment under advice from the SENCo. In most instances the teacher is able to provide resources and educational opportunities which meet the child's needs within the normal class organisation. Support staff or specialist

teachers may

be used to assist the child.

If a child is Most Able (achieving, or have the potential to achieve, at a level substantially beyond the rest of their peer group) he/she will be given differentiated learning tasks which will challenge and 'stretch' enabling the deepening of knowledge and understanding.
The Foundation Stage
The curriculum that we teach in the Early Years class meets the requirements set out in the revised Early Years Foundation Stage. Our curriculum planning focuses on developing children's skills and experiences, as set out in this document.

Our school fully supports the principle that young children learn through play, and by engaging them in well-planned structured activities, teaching in the Early Years class builds on the experiences of the children in their pre-school learning.

We build positive partnerships through visits by the Foundation Stage teachers to all nursery and pre-school settings and through professional liaison with pre-school practitioners.

During the Foundation Stage, teaching staff make continual observations to record the children's progress. These assessments form an important part of the curriculum planning for each child and are shared with staff, parents and carers and the Governing Body.

All children need the support of parents and carers and teachers to make good progress in school. We strive to build positive links with the families of each child by keeping them informed about their child's progress through Tapestry, an online record of achievement.
Curriculum Overview
Our thematic curriculum is informed by the 2014 National Curriculum and its Programmes of Study. We deliver the curriculum through a skills based approach, incorporating learning language, growth mindset and values, and ensure that our pupils experience a range of visits, trips and visitors.
Please click on the links below for a curriculum outline for each year group for the current academic year.
Please click on the links below for each year group for 2018/19 Academic Year