Our Vision
'Aspire, Persevere, Achieve'
ensuring 'life in all its fullness'
Aspire… to believe in ourselves, aiming high
Persevere…with the challenges we face
Achieve…our personal best and flourish
'So encourage each other and build each other up.' 1 Thessalonians 5:11
Our Vision Statement
In our happy and inclusive church community we nurture our children and develop their confidence in order to aspire. Our children develop their spirit and strength of character, learning to persevere with the challenges they face. Our curriculum inspires learners to achieve their personal best being proud of who they are and promotes 'life in all its fullness'.
Our Core Christian Values
At the centre of everything that we do are our core TERRIFIC values. They underpin our teaching and learning, and ensure that we create a deeply Christian environment where all children feel valued and safe.

Embracing Teamwork
Showing Empathy
Developing Resilience
Demonstrating Respect
Showing Integrity
Having Faith
Celebrating Inclusion
Sharing Compassion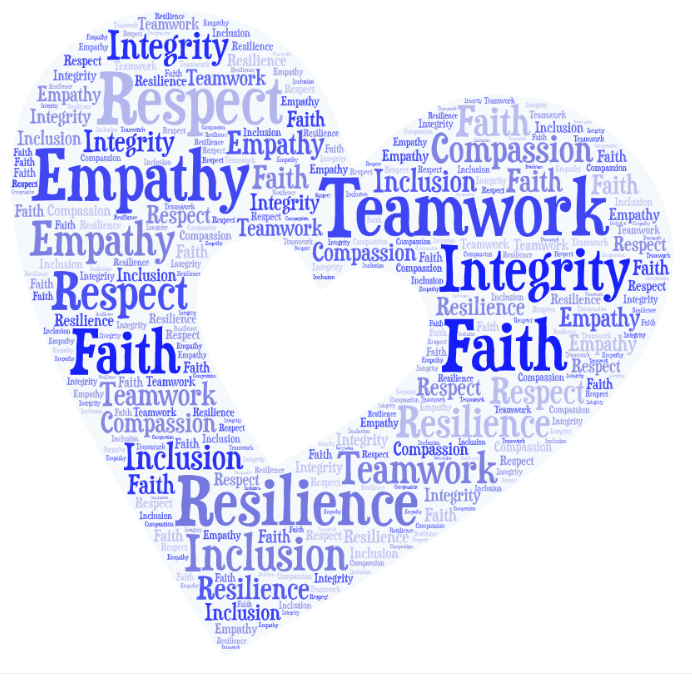 Our Aims:
We aspire for children to believe in themselves, be confident and courageous and develop the knowledge and skills they need for life-long learning in a diverse world. We aspire for our children to achieve their absolute best and flourish, both academically and personally, so they are well prepared for their future – wherever their aspirations take them.
Our aims are:
We want our children to aspire, persevere and achieve and for all stakeholders to buy into our school vision and values.

To develop successful and meaningful relationships with our children and the wider community.

To promote children's confidence, self-belief and delight in seeking wisdom and knowledge: happy children are ready to learn

To value and support the individual needs and character of every learner and develop their talents in all areas of life.

For our children to believe in each other and to feel supported; never alone on their journey.

To deliver a high-quality curriculum that equips children with the knowledge and skills needed for the next stage of their life

To promote a love of learning for all learners where new challenges are embraced

For children to develop their strength of character, showing resilience and learning to persevere with challenges that they face.

To create a welcoming atmosphere and community where children, staff, parents carers and visitors to our school feel valued

To develop children's awareness of the wider world , embracing equality

For children to be able to talk and think about their emotions and how they feel so that they can form empathetic and supportive relationships

To work in partnerships with outside bodies, including our local church, in order to strengthen curriculum links

To provide opportunities outside of the National Curriculum for children to enrich their education and experiences.
Within our church school, governors, staff, pupils, parents and carers work to create a safe, caring and inclusive environment which nurtures the spirit, supports and inspires learning and enables all pupils to reach their potential physically, socially and academically.